Swedetown Trails
Get your ride tuned up, and bike to the trails from our front door! (The green highlighted route starts at our shop!)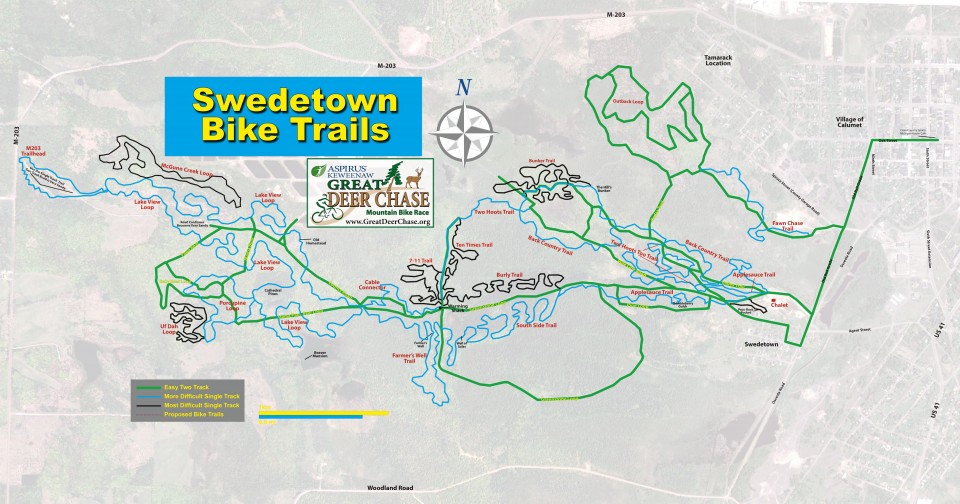 Check out the winter trails map here. Seasonal snowshoeing and lighted skiing, snowbiking on Fat Tuesdays.  Ski passes for all local trails are available at Cross Country Sports. Swedetown Trails website
Other Local Trails
Where to Stay
There are many great hotels, campgrounds and bed and breakfast options. Just next door is the Michigan House, near by is the Laurium Manor Inn, and if you'd like to stay even closer to the shop, walk upstairs to one of our three apartments which we reserve for visitors. See our listing below at AirBnB!
Apartment in Calumet Township, United States. Apartment available for a week vacation, weekend or just a night out of town. The apartment is located in downtown Calumet, above Cross Country Sports and just blocks from Swedetown Recreation Area. Comfortable, clean and historically restored. B… View all listings in Calumet Township
Winter Fun
Other Links to Consider
Planning a visit to the Keweenaw? Find everything you need at the Keweenaw Convention and Visitors Bureau.
Check out Keweenaw Trails for trail information, classifieds and more!
PastyFest, Guts Frisbee and Business Opportunities all in one place? Visit Main Street Calumet to learn all that Calumet has to offer.